Shipping a car overseas is a major decision, given that a car is usually one of our most-valuable assets. If you have concerns regarding the safety of your vehicle during transit, let EasyHaul take care of your international car shipping process and delivery your prized possession at your new doorstep! To help you get started, in this post, we answer five frequently asked questions about international car transport, which we hope would clear many of your doubts.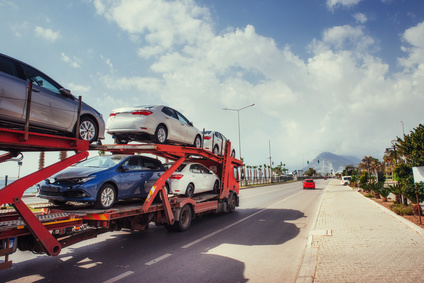 What all documents are required to ship my vehicle?
You will need to provide certain documents for your international car shipping, which would be required for custom clearance. The documents include – the original Certificate of Title of Ownership of the vehicle (without a Lien recorded on the Title), the Port the vehicle will be shipped from, and a Notarized Bill of Sale. Some ports, such as Savannah and Houston may also require Export Power of Attorney.
When do I receive my documents back?
All the documents you provide for completing the shipping process and US Customs clearance of your vehicle will be sent back to you once the vessel containing your vehicle has sailed. We use regular mail to send the documents, which allows us to deliver to any address in the US. You can also choose for the documents to be sent through FedEx, at a minimal additional cost.
What is a Roll on Roll off (RoRo) shipping?
Roll on Roll off shipping includes a modern ferry or sailing vessel that carries all vehicles with wheels, which can be rolled on to and rolled off the vessel. The hull of the vessel, where the cars are stored, is air- and watertight. Types of RoRo vessels include ferries, cruise ferries, cargo ships, and barges. However, for car shipping, you can choose from two special types of RoRo vessels: Pure Car Carriers (PCC) or Pure Truck and Car Carriers (PCTC).
Would I need an international driver's license and foreign registration to drive in a foreign country?
If you are shipping your vehicle overseas, you will need an International Driver's License to drive the car in the destination country. American Driver's Licenses are valid in Europe – for any other country, you will need to get an International license from the AAA Automobile Association. If you are planning a prolonged stay in another country, you can drive with your American license plates as a tourist or temporary resident, until your registration for that year expires.
Can I load my vehicle with personal possessions?
If you choose shared container shipping, you can pack your personal goods into the car – but you may not get insurance for such goods. If you ship your vehicle in an exclusive container, which might be expensive, you are permitted personal possessions inside the vehicles – which will be insured only against loss. If you choose RoRo shipping, no personal items are allowed inside your vehicle during shipping.
All Ready to Ship Your Car Overseas?
If you still have questions about the process of international car shipping, don't hesitate to contact EasyHaul. We are a trusted international car shipping company, equipped with all that may be needed to ensure a smooth transition. To discuss your requirement, fill out our contact form, or simply call +1 (360) 597-9320 to speak with one of our international car shipping experts.