Vehicle shipping is a kind of service, where no one wants to pay more than expected. With constantly growing competition in the industry, car transport companies strive to make vehicle shipping more affordable. There are, however, ways to further cut down transport expenses by following these simple steps. In this article, we're reviewing the most important tips on how to save money on shipping.
Choose a reliable transport company
Our company has years of shipping experience, and we've helped thousands of people worldwide get their vehicles home safely. To order car shipping services within the USA, you'll just need to enter your zip code, provide us with the delivery address, and click "Place your shipping order".
If you're going to export a car from the USA, we'll take care of all required documents required for US Customs. You'll be responsible only for providing us with an original Bill of Sale, a copy of your government-issued ID or passport, and the consignee's information in the destination country. Make sure that your car has a title valid for export. Vehicles with Bill of Sale (BOS), Scrap, Junk, and Parts Only titles can't be exported out of the USA.
Shipping a non-running car is going to be more expensive
If your car is inoperable, be aware that shipping costs will increase. Shipping inoperable cars requires special equipment like winches or forklifts, which you may have to arrange for. But there's no need to worry: we ship cars that don't run under their own power.
Get to know what is included in the quote
If you're ready to order vehicle shipping, the best way to save money is to ask the representative of an auto transport company what they include in their quotes. EasyHaul factors in costs of both transport to the nearest port in the USA and ocean shipping prices for international quotes, and the price of ground transportation to your destination for domestic deliveries. Please note that door-to-door domestic delivery can be more expensive than shipping to a terminal, but it won't affect the price heavily.
Weight of the car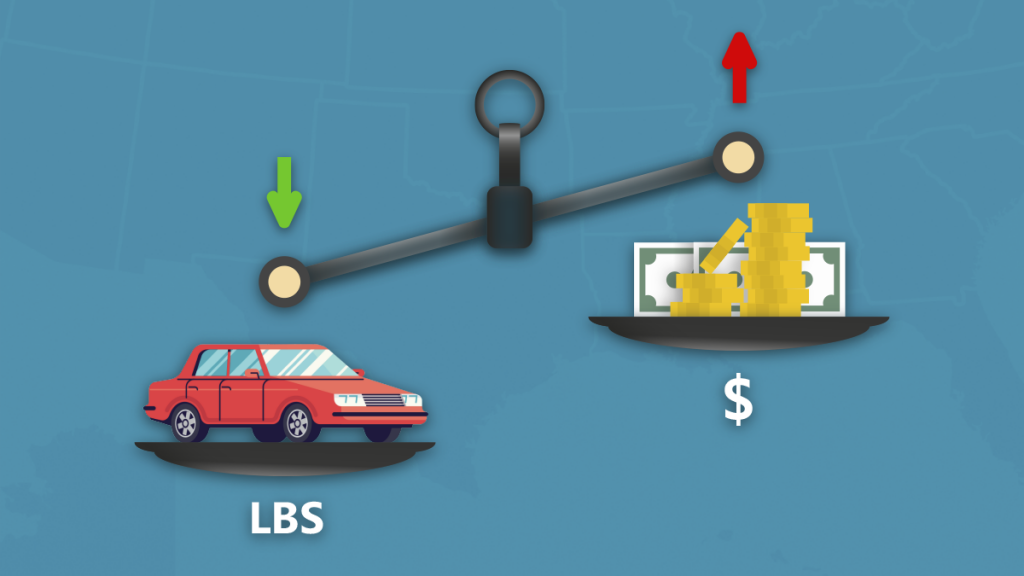 The curb weight of the car directly influences the shipping price. The heavier the car, the more you'll pay for shipping. That said, delivery of a pickup truck or a full-size SUV is going to be more expensive than shipping a small sedan or hatchback. You may not know the curb weight of your car, but if you enter the car's VIN on our instant shipping calculator, you'll get a guaranteed quote with delivery times and prices according to the vehicle's type. Please note that the shipping costs may be higher if your car is damaged.
Get ready with documentation
Missing or incorrectly filled out documents may cause unwanted delays, leaving alone incurrence of additional fees. This is especially important for international vehicle shipping, as international buyers are responsible for all necessary procedures regarding customs clearance and registering cars in their countries. Make sure that you have the paperwork required to import a car to your destination country, and you'll save not only money but your nerves.
Pay for shipping services in time
We won't be able to assign a driver to pick up and deliver your car until you pay for shipping in full. Please take into consideration that additional storage fees may be incurred if the vehicle hasn't been picked up from the auction yard for more than three days. To avoid any additional fees and delays, those who are buying cars from online auto auctions like AutoBidMaster or Salvagebid should pay for shipping in full as quickly as possible.
Bottom Line from EasyHaul
With EasyHaul you're in good hands. We'll help you with shipping, no matter where you want to transport your vehicle. To place your order, start with our instant quote calculator. Then you'll have to register with us, enter your vehicle's VIN, provide us with a valid phone number along with a copy of your passport or a government-issued ID. You'll have to enter the destination country along with the information about the consignee as well if you're ordering international vehicle shipping. Contact us or call at + 1 (360) 776-3596 (6:00 AM – 4:00 PM PST, Monday to Friday) with any questions.