Classic motorcycles are fragile and extremely beautiful, so they require special care and attention to detail and during transportation as well. Once you win a motorcycle from an online auction, you'll have to find a reliable shipping company to get it delivered. With EasyHaul, you don't have to worry, we're covering everything about classic motorcycle transportation.
Avoid unnecessary wear & tear of your motorcycle
Look for motorcycle shipping services that will keep your classic bike mechanically sound, preventing excessive wear and tear. EasyHaul has got you covered with both domestic and international motorcycle transport. We have all the necessary equipment for pickup and off-loading your motorcycle. To place your domestic order, provide us with the pickup location along with the destination zip-code or address.
If you're going to order international motorcycle transport, use our instant quote calculator to get a guaranteed shipping quote with shipping rates for ground transportation and ocean freight. You'll have to enter your motorcycle's VIN, its location (if you aren't shipping from an online auction), and the destination country to get a quote.
Choose your shipping method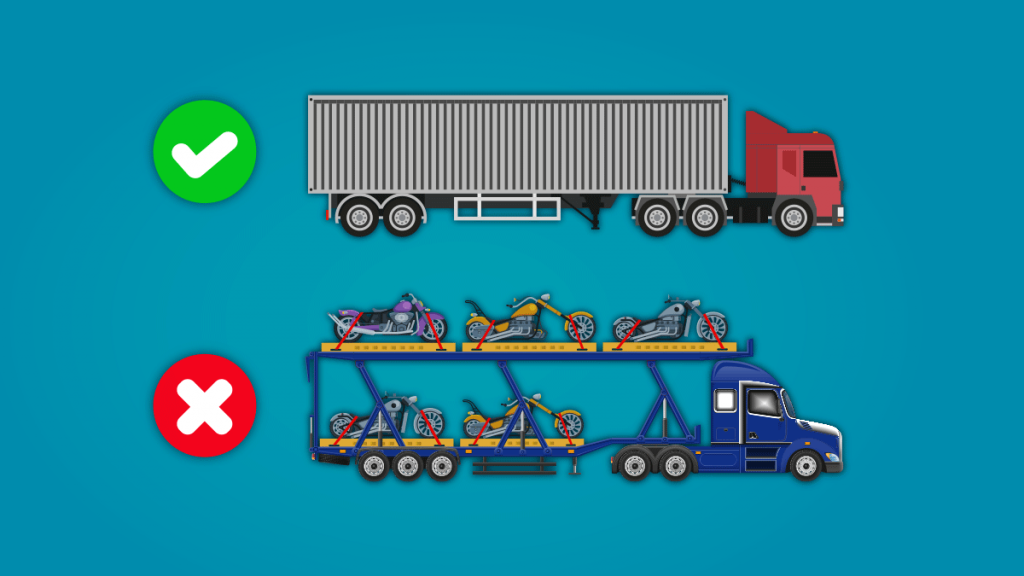 The best way to ship a motorcycle within the country is to order enclosed transportation. Though enclosed shipping is more expensive, it guarantees protection from inclement weather and road debris. Shipping on open carriers is a more affordable option, though it doesn't protect your motorcycle from the elements.
EasyHaul usually ships motorcycles internationally in standard 40-ft containers. This method remains the most cost-efficient option for shipping overseas. Between 8 to 12 motorcycles, depending on their size and weight, can be placed into a single container. You'll split the shipping costs with other customers.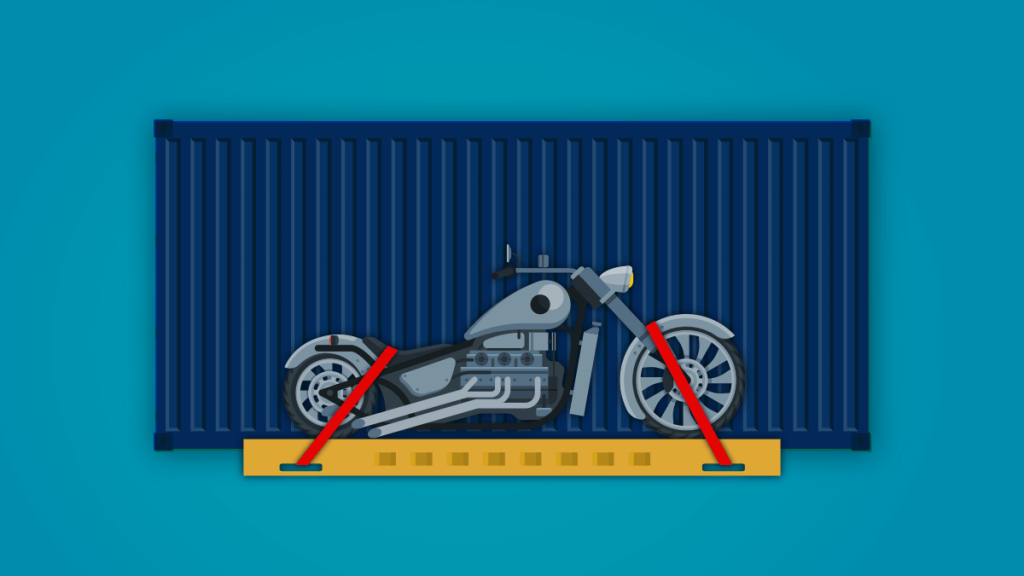 Before shipping, every motorcycle is placed into a crate, which can be either individual or shared. Motorcycles are tied down and secured to prevent rolling.
Prepare your vintage motorcycle for shipping
To streamline your shipping experience, follow these steps before loading your classic motorcycle onto a truck:
remove all accessories like hardshell cases and side bags

be ready with all documents

drain all the fluids (keep in mind that a wooden crate is easily flammable)

unplug or remove the battery if it's possible

wash the motorcycle
International buyers don't have to worry about all this stuff because EasyHaul can clean, cover your motorcycle, or make new export documents for additional fees. You can contact us directly regarding other services we provide and arrange a trouble-free shipping experience according to your needs.
The average cost to ship a classic motorcycle
The motorcycle delivery costs depend on numerous factors like the distance, size and weight of the motorcycle, and its condition. Different surcharges can impact your shipping quote during peak seasons. Domestic transport of a classic Harley Davidson from Texas to New York, for example, will cost approximately $1,500, and international shipping won't be that expensive: the price for motorcycle ocean freight from Texas to Germany is $520, transportation to the United Arab Emirates is another $600. To get a precise quote and estimated delivery times, use our instant quote calculator.
Wrap Up
EasyHaul offers affordable motorcycle shipping services both internationally and within the USA. To book your shipping, just register with us, upload a copy of your government-issued ID or passport, and provide us with a valid phone number. International customers have to provide their consignee's information and send us the original Bill of Sale (when shipping from an auction). We are happy to answer all your questions via our online contact form, or you can reach us at + 1 (360) 776-3596 (6:00 AM – 4:00 PM Pacific Standard Time, Monday through Friday.)