When it comes to moving your car, you're in control of choosing the shipping method and carrier. A lot of people think that choosing rail auto shipping is the best way to cut down on delivery expenses and save time, but shipping your car by train is not as efficient as auto transport on a truck. In this blog, we're explaining vehicle transport by train and going over its advantages and disadvantages.
What Is Rail Auto Shipping?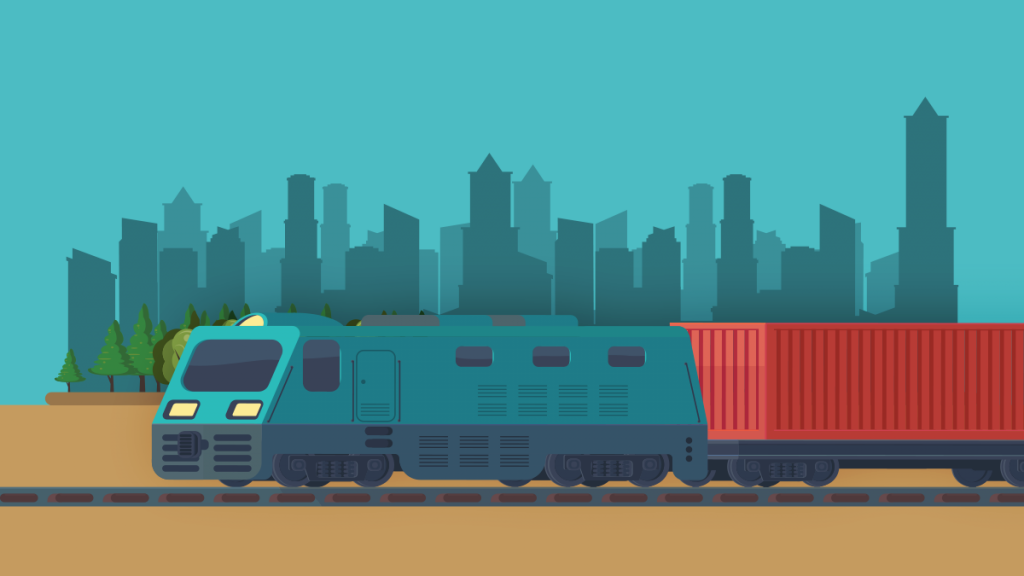 Railroad companies are known as major operators for heavy-load shipments across the country. This results in the leading position in terms of ton-miles: a specific cargo measurement system calculated by a ratio of weight and covered distance. Trains aren't as dependent on the fluctuations in fuel prices as trucks, so their operability is often cheaper. Railway vehicle transport is outdated now, as this kind of transportation requires adaptation to modern shipping technology, which can take a considerable amount of time. Not all trains are equipped with GPS systems, so real-time tracking is impossible. Navigation systems are being developed and they will help reduce the time spent until the train's cargo space is filled up. Nonetheless, non-private customers (for instance, dealerships or automakers) usually send cars either by trucks or trains (or use both, depending on the distance and logistic purposes), combining the two least expensive transportation methods.
The Main Pros and Cons of Rail Auto Shipping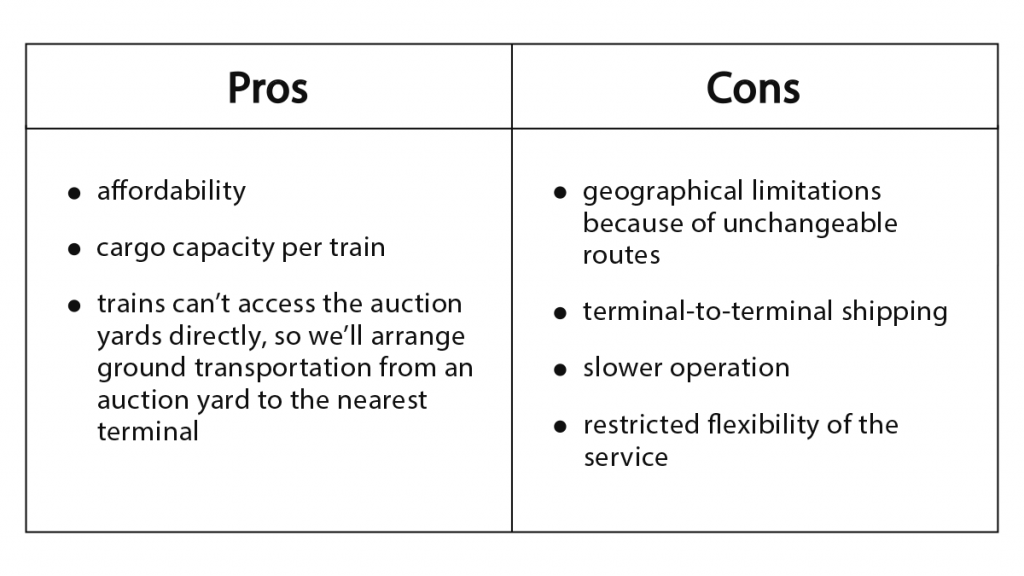 The two most important advantages of car delivery by train are its affordability and cargo capacity.
Train car delivery is beneficial for entities like car dealerships but isn't for private individuals. Dealers usually ship in bulk, so delivery across the country by rail is more efficient since a single train can haul hundreds of vehicles simultaneously. For individuals, shipping a car or two on a truck makes more sense, as this is a fast and economical alternative. Note that you can find more local car haulers than railroad companies, so you'll be able to compare prices and get the best deal.
Rail auto transport is geographically limited since trains follow unchangeable routes or stop by certain stations on the way. This causes another inconvenience: door-to-door service isn't available at all both for entities and private customers, so you can choose only terminal-to-terminal shipping. If you purchased a car through an online auto auction, railway vehicle transport is a complicated option. The absence of direct access to an auction yard leads to additional hassle with arranging ground transportation. EasyHaul will arrange everything to have vehicles transported from the yard to the railway station or a hub. Keep in mind that during rail auto shipping you will be responsible for paying transportation fees incurred by the railroad company.
The flexibility of this kind of transport is also restricted, as railroad companies normally don't transport privately-owned vehicles or operate relatively short routes in neighboring states. The only railroad car transporter dealing with privately-owned cars is Amtrak, which operates a single vehicle shipping route on the East Coast despite having nationwide passenger trains.
How can you benefit from shipping with EasyHaul?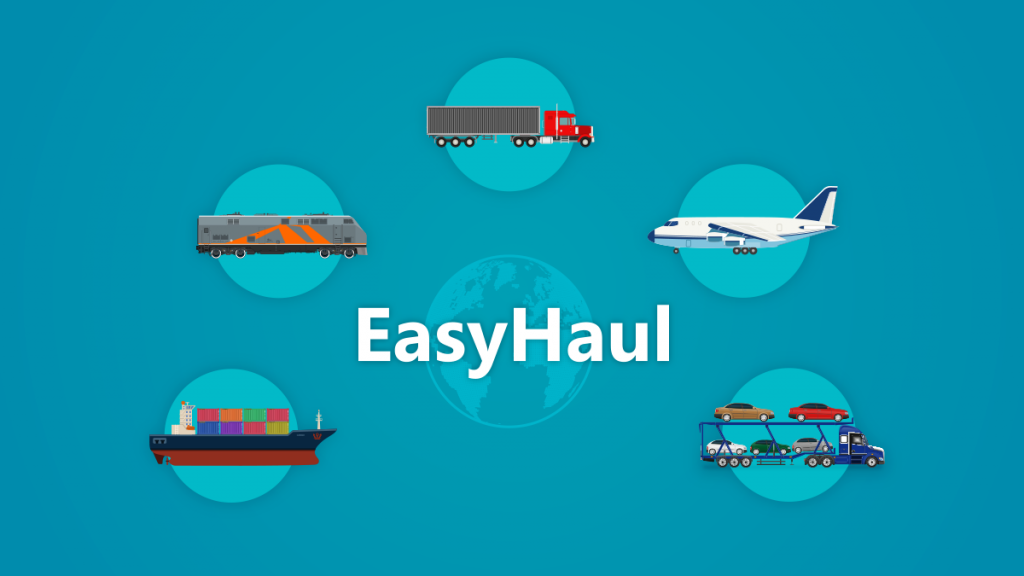 EasyHaul provides a variety of transportation services, but to order auto shipping by rail you'll have to request a custom quote. We offer fast, affordable, secure, and trouble-free ground transportation across the USA. We can transport vehicles, regardless of their operating condition. Ordering shipping with us is easy: get started with a guaranteed quote by entering your vehicle's VIN along with its location, then make sure everything is correct, and place your order. You'll need to upload a copy of the original Bill of Sale if you're ordering shipping straight from a car auction. If you need to ship your car quickly or your vehicle requires superb care, you can rely on us.
Bottom Line
Rail auto shipping isn't suitable for everyone, as there aren't many options offered. EasyHaul has you covered with domestic auto transport and an affordable multitude of shipping services, from open car carriers to expedited car forwarding. Register with us to place your shipping order, provide your phone number, and upload a copy of the original Bill of Sale if you've won a car at an auto auction. We'll take care of the rest. Get ahold of us at +1 (360) 776-3596 (6:00 AM – 4:00 PM Pacific Standard Time, Monday through Friday) or fill in our online form, we'll be happy to answer any questions you may have.